3 core rubber flex cable Feature: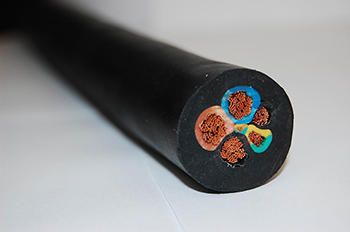 1. Voltage: 300/750V,0.6/1kv, 6/10kv
2. Conductor: Flexible copper/Tinned copper
3. Conductor type: copper IEC60228-2004 class1,class2,class5 and 6
4. Insulation: Vulcanised Rubber/Rubber/EPR/Silicone Rubber
5. Color of insulation: Red, Yellow, Green, Light blue, White, Black, Grey, Brown, Orange, Violet, Yellow/Gree
6. Nominal cross section area: 0.5~400mm2
7. Cores: 2/3/4/5 core or other cores
8. Standard: IEC,VDE,DIN etc
9. Packaging: Iron Or Wooden Drum or according to your requirement
What's the advantages of 4 core  rubber flex cable?
You can move rubber flex cable frequently. It is necessary to move the 4 core rubber cable frequently during work, which requires better wear resistance of the sheathing. The tensile resistance is also necessary. In addition, you can bend and twist 4 core rubber flex. Because rubber flex cable is very soft, you can bend and twist them many times. The 2 core rubber flex is not easy to burn. And 2 core rubber flex has a good electrical and safety protection system. What's more, the rubber flex cable is light. And it is easy to use and easy to examine and repair.


How to select quality 3 core rubber flex cable?
You can check the surface of the 3 core rubber flex. Generally speaking, the high-quality 3 core rubber flex not only the surface is smooth, but also the color is even. In addition, the thickness of the insulating layer should reach a certain degree of uniformity and can be tightly clasped on the conductor. Therefore , it's important to notice surface of the 3 core rubber flex reasonably according to the above contents when selecting. Also, you should check the test report of 3 core rubber flex. As a product that affects safety of person and property, the 5 core rubber cable has been listed as key point of government supervision. Regular manufacturers are subject to periodic inspection by the supervisory department. Therefore, the seller should be able to provide quality inspection department inspection report. Otherwise, there is no basis for the quality of rubber flex cable.
Our advantages: As a leader of cable industry, Hongliang owns professionals, excellent cables, competitive price, and perfect after-sale. You can rest assured that choose us. Please leave your requirement, we will reply you within 12 hours.


Packaging&Delivery: Before shipment every types of cables have been rigorously tested.


Customer Case: We have exported wires and cables to more than 30 countries, such as: Russian, America, Yemen, South America, North America, Middle East, Africa, Asia, Oceania countries etc.


Please feel free to leave your requirement, we will reply you within 12 hours.