H07 Cable Feature: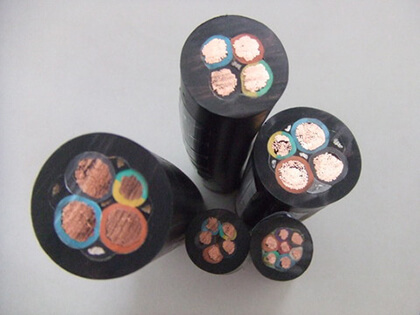 1. Voltage: 300/750V,0.6/1kv, 6/10kv
2. Conductor: Flexible copper/Tinned copper
3. Conductor type: copper IEC60228-2004 class1,class2,class5 and 6
4. Insulation: Vulcanised Rubber/Rubber/EPR/Silicone Rubber
5. Color of insulation: Red, Yellow, Green, Light blue, White, Black, Grey, Brown, Orange, Violet, Yellow/Gree
6. Nominal cross section area: 0.5~400mm2
7. Cores: single or multi-core
8. Standard: IEC,VDE,DIN etc
9. Packaging: Iron Or Wooden Drum or according to your requirement
How to get the high-quality ho7 cable?
On the one hand, to save money, many people like cheap h07 cable. But please don't forget about security. As an old saying goes, you get what you pay for. So is cable h07. The raw material of cheap cable ho7 is generally not selected in accordance with national standards. Some even cheat on workmanship and material and profit from it. It's going to be a big security hazard for everyone. So please don't choose cheap ho7 cable. Just another old saying goes, penny wise, pound foolish. If you need h07 cable, you can choose Hongliang. We will give you a reasonable cable h07 price. On the other hand, when choose cable ho7 specs, ho7 cable ampacity, and type cable h07, people are tend to get a wrong spec or type. Some cable ho7 manufacturers simply sell their cables and don't care about real use of consumers. So it's important to know what kind of cable you want to buy. You should know the spec and type of ho7 cable, then buy the corresponding cable. If you want to know more about h07 cable or buy it, please leave your requirement

Why maintain the ho7 cable line?
During the operation of ho7 cable line, professional personnel should carry out real-time maintenance. The environment will affect cable h07 and has a series of phenomena. Such as corrosion and weathering, which cause great loss in use of the cable. So, you should maintain cable now and again. However, the problems encountered and task requirements are diversified in the course of operation and maintenance. In general, the operation and maintenance of ho7 cable lines mainly include the following two aspects.

First of all, ensure the normal operation of the h07 cable line. In the operation and maintenance of cable h07 line, it is the most basic and important task to ensure normal operation of cable line. The task seems simple and easy, but it is not. This task requires not only staff to be well aware of cable ho7 lines, but also to monitor and manage normal operation of cable line system in real time. There is another important reason for the maintenance of the ho7 cable. In order to reduce the accident during the operation of h07 cable Line. The maintain of cable h07 is very important. So you should take it seriously.

Do you know how to check the ho7 cable?
After laying the ho7 cable, it is necessary to check it regularly. So do you know how to check the cable lines? Let Hongliang tell you now. First, generally speaking, the h07 cable can not be overloaded in operation. The operating department must regularly measure and monitor the load current of the cable. If there is a load in the event of an accident, You must quickly restore its normal current. You should measure the cable h07 temperature at maximum load. For direct-buried cable ho7, you should select best arrangement of cables or the worst heat dissipation conditions.

Next, to prevent premature ageing of ho7 cable insulation, normal operating voltage of h07 cable line should not exceed 15% of rated voltage. If you want to boost the pressure operation, you must go through the test. And submit it to the competent technical department at the higher level for approval. Staff members should record the results of inspections accurately. The operation department should take countermeasures according to the inspection results to eliminate the defects of cable h07 line. Although maintaining cable ho7 is important, buy high-class cable is more important. Hongliang is a reliable ho7 cable manufacturer and supplier from China. You can rest assured to choose Hongliang.

The other ways to check ho7 cable.
During inspection of h07 cable lines, if there are sporadic missing fillings, they should be recorded in defect record book. The maintenance personnel prepare the maintenance plan for the month or quarter. If you find a general defect of cable h07, it shall be recorded in the overhaul defect record book. And make annual overhaul plan accordingly. If there is an serious defect in the cable ho7 line, and report the operation management immediately. And keep a record and fill out the important defect notice. The operation manager should take timely measures to eliminate the defects after receiving the report. In order to save the cost and reduce the investment, it is necessary to extend the duration of the ho7 cable when it is used. But this is not simple. It needs not only the quality of h07 cable itself, but rely on the daily maintenance and repair of cable in a timely manner. Only in this way can the safe operation of the cable h07 line. And the safety of person and property be ensured. Please don't hesitate to contact us if you need discount and quality h07 cable.


Our advantages: Hongliang Cable Group is one of the most creditable and qualified cable manufacturers from China. We have the best welding cable. If you want to buy cable please leave your requirement. We will reply you within 12 hours.


Customer Case: We have exported wires and cables to more than 30 countries, such as: Russian, America, Yemen, South America, North America, Middle East, Africa, Asia, Oceania countries etc.


Please leave your requirement. We will reply you within 12 hours.